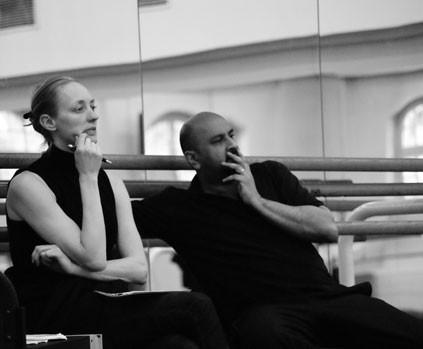 Joseph Sturdy and his wife Marie Larsson Sturdy founded Focus Dance in 1997. The company is based in the in the viberant city university city of Uppsala in Sweden. Focus Dance has sustained a pioneering commitment to  choreography and the development of dancers.
As a company Focus Dance is committed to producing work led by and focusing on the power of the dancing body, that is both thought provoking and resonates in peoples lives. Focus Dance collaborates with dancers, artits, and musicians of the highest calibre striving always to produce dance of the highest quality. Focus Dance has a strong committment to building audiences through innovative audience development outreach projects and educational work. The company to date has staged over 35  critically aclaimed works both nationally and internationally.
Learning and participation
Every year Focus Dance works with a large number of children, young people and adults, delivering a range of activities geared towards engaging people in dance and the work of Focus Dance.
Focus Dance has a long history of working in schools and the community to deliver high quality dance workshops and classes to students of all ages and abilities.
Led by a member of  Focusdance. Workshops are specially tailored to meet the individual needs of each school. The focus is on an existing piece of repertoire.
Workshop Contents:
– An introduction to the workshop.
– Classical  or a contempoary warm up class
– Repertoire Focus / an oppotunity to learn sections of the repertoire
– Choreography/  students follow set tasks to choreograph their own work
– Sharing  / students perform and discuss their work together.